Beato Review | Best Sugar Testing App |
Home

/

Beato Review | Best Sugar Testing App |
BeatO review
We all know that self-monitoring of blood glucose has never been easy. Still, with the help of digital technology, it is attainable and more accessible wonder wondering how you can self-monitor your blood. It would help if you relied on this BeatO review to grab all the essential information.
There is no hidden fact that technology has taken the lead in almost every field, and if we talk about the self-monitoring of blood glucose levels, you can prefer using a Beato Glucometer. This is the latest technology that allows you to monitor your glucose level in the most effective way.
The best thing about this meter is that it will turn your Smartphone into a handy blood glucose management tool. It works effectively and ideally with the iPhone and Android as well. To know everything in detail, make sure to stick to this page till the end. There are enormous advantages of using Beato for self-monitoring purposes.
What is BeatO?
Most of the time, diabetic people wish to have some ways to track their blood sugar levels without running here and there. BeatO is an Indian company trying to create a whole ecosystem of the product for the country's millions of diabetic patients. It has launched a tiny and neat-looking Glucometer which is very effective and allows the users to plug into the Smartphone to track their blood sugar level.
What is BeatO Glucometer?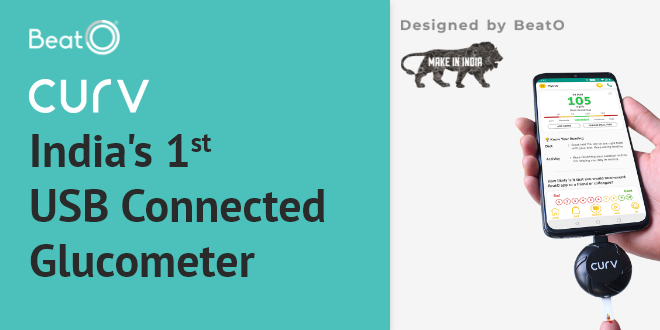 With the help of advanced technology, experts have discovered smartphone-based Glucometer to measure glucose levels. BeatO Glucometer is also based on the Smartphone. It is the first-of-its-kind blood sugar monitoring device that ensures accurate information related to your blood sugar levels. People widely accept the use of their devices. Yet, some people still don't know about this great discovery.
If you are a diabetic patient, you might need a regular test to monitor your blood sugar levels. It is pretty challenging to visit a hospital to get the test done. BeatO Glucometer is the most effective way which you can use to check your blood sugar levels most conveniently. You don't have to visit any clinics or test labs to monitor daily. You can use your Smartphone to get the work done by plugs easily into any Smartphone, and laps instantly connect you with an expert. Every user can avail numerous benefits from expert sugar level management as well.
Also, Read- MediBuddy Review | Your Best Health Buddy |
Benefits –
Though there are tons of benefits which you can easily avail yourself of with the use of the BeatO Glucometer, the best thing about Glucometer is that it allows the users to monitor their blood sugar levels and to keep track of any fluctuations.
● Pocket-sized
Mainly BeatO Glucometer comes in a pocket-sized, making it easier for the people to carry here and there. You may have to hold a specific carry bag to contain and maintain the meter to monitor your blood sugar levels. It can easily fit into your pocket. It is as small and light as two coins.
● Trustworthy and certified
The best thing about this sugar level reading is that it provides easy-to-use features, and it is comfortable to carry as the portable Glucometer follows the standard protocol. It is also CE-certified to offer you accurate results anywhere and anytime as well. It is CE and ISO certified, and it also follows the essential protocol for accuracy. This device is trustworthy, and you can trust it without any stress. You can also trust the readings.
● Allow sharing readings for clarification.
This allows sharing the report with the experts as well. It will enable you to make a strong network through easy-to-share features like your family or doctor. You can also share the readings with your medical experts to know the reason or suggestions. You can share the lessons for better clarification from your experts.
● User friendly
BeatO Glucometer is user-friendly, and it will enhance the conformity of self-monitoring. This minimizes the trends which are neglected. You can avail the benefits of user-friendly features provided by the BeatO Glucometer. The best thing to know is that it has been developed with the latest technology. It is not just a device, but it also provides free access to the features of the rich application, which can be easily used on the Smartphone.
● Less painful
It is made with highly superfine round points to ensure a less painful prick. This Glucometer is precisely effective, and it also requires a comparatively minimal amount of blood sample to monitor blood sugar levels.
● BeatO application
You can use the BeatO Glucometer application. The help goes app automatically saves and organizes the reading in the log, getting colour-coded results to determine the low or high and even regular tasks of the blood sugar levels. You can also access the charts and trends of sugar levels. It is pretty easy to understand the sugar levels with the application.
You Might Like: Netmeds Review | How To Earn Money From Netmeds? |
How To Use a Glucometer?
It is straightforward to use the BeatO Glucometer. You need to plug the Glucometer into the headphones jack of your Smartphone and then start monitoring the reading. The reading will be saved automatically on the Smartphone, which you can also send to your medical experts. They will observe your blood glucose levels. They will guide the user with specific diet and physical activity, including medication adherence and the management of lifestyle as well.
Is there any discount?
If we talk about the BeatO, this website mainly provides a Glucometer kit to check diabetes and blood glucose levels. When you visit their website, you will see multiple products related to diabetes and meters for your health and body checkup. These are the famous brands which also provide offers.
It might not be possible to earn money at the MRP, but you can prefer to get specific products or services with exclusive discounts and offers. You can find great deals on our website to get the required products at a reasonable price.
How to avail cashback from the CashJosh?
After successfully purchasing the product, our team members will track your transaction number within 6 hours. Then we will initiate the steps of providing you with a special discount on every purchase. You will earn cashback as the reward in your registered account for the deal you selected before the purchase. After 90 days, you can easily withdraw your credited money. You can avail of the cashback up to flat Rs 100.
How to make money with your affiliate links?
Some easy and practical ways allow you to earn money with affiliate links. You can directly earn money as you shop with our affiliate links. CashJosh is considered the best platform to find a fantastic earning opportunity. This place is the best place where you can find the possibility to earn money with the purchase from your links. Your links play a vital role here. You will have to create a link by selecting the store and picking the most traffic deal or the offer page link.
When you are creating your affiliate links, then make sure to share the link with your friends and other members with the help of using sharing tools and with the help of social media as well. You can share the link to increase the reach and to gain more profitable outcome results.
You can easily earn a surprising amount of cash from CashJosh. You can also make a maximum amount of money back if your circle for the purchase uses your link to shop to get the specific products and services. Then you will earn the commission, which will be credited to your bank account directly.
FAQ's – Beato Review
1: How is this Glucometer better than other glucometers in the market?
A: We all know that Glucometer is not just the meter to monitor or track your blood sugar level, but it is combined with the features of the rich BeatO application, which can be effectively used in the Smartphone. It is considered a great way to track the level of blood sugar. Smartphone-based Glucometer helps to monitor and manage your diabetes in the listed ways:
●It helps the users to monitor like a pro with the features to save and share the records. This also allows the users to analyze the reading on the application.
● It allows the users to speak to a doctor on call with zero waiting time. You don't have to wait to get an expert consultation to discuss your readings. You can avail unlimited support from the team of medical experts through chats and calls as well.
2: Is the Glucometer as accurate as a normal glucometer?
A: Yes. You don't have to question the accuracy of the Glucometer readings. It is a certified device that ensures accurate readings of your blood sugar level. This device is built-in technology and it is tested as well. It has been compared with the other well-known Glucometer as well.
3: What is the warranty period?
A: You can so avail of the warranty. Mainly the warranty comes with a maximum of 1 year but, sometimes it also depends on the product.
4: Is the BeatO glucometer accurate?
A: Yes. As far as the reading is accurate, it is subjected to the same tears that all Glucometers are. Sometimes they do show some variability, and it should not be considered precise.
5: What is the BeatO app?
A: It is the mobile health application for chronic disease management and provides real-time monitoring with the help of IoT-connected devices to an ecosystem of the app to provide AI-driven personalized insights of the readings of blood sugar levels.
Conclusion – Beato Review
You can effortlessly take the reading and you can sync with the BeatO application to understand the pattern of the readings of your blood glucose levels. This is very effective as it allows you to make necessary changes in your diet and lifestyle and also helps your doctor to monitor your medication as well.
It works seamlessly with the Android and iPhone as it also consists of rich features of BeatO apps. You can avail yourself the simple and easy-to-understand graphs to know your body better with an accurate analysis. It is easy to carry and compact. The best part of the BeatO Glucometer is that it also provides an automatic alert system that ensures you keep your update when your readings are high or low.